Back to case studies
Haldane Fisher
Cutting-edge business intelligence allows Haldane Fisher to enhance their customer service
Vertical: Distribution
Industry: Building & Timber Merchant
Product: K8 & Phocas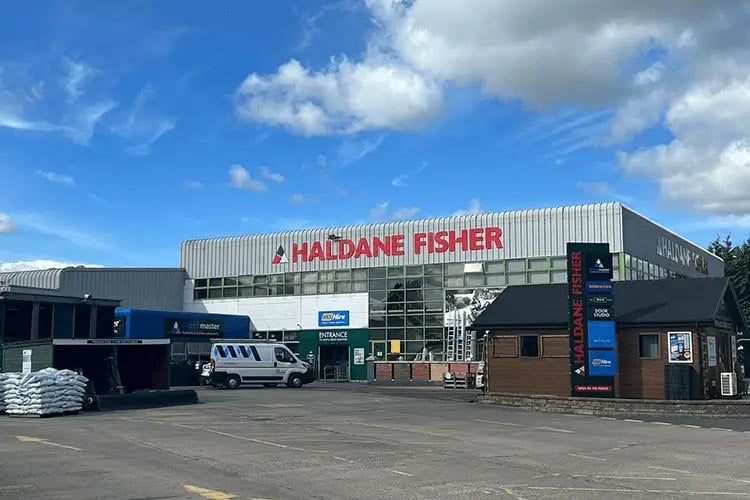 About Haldane Fisher
Established in 1946, family-run building and timber merchant Haldane Fisher pride themselves on continuously improving their business and providing outstanding customer service. For many years, the merchant has run K8 - the flagship ERP solution from Kerridge Commercial Systems (KCS) - as the core business management system to streamline their trading and finance management. As part of Haldane Fisher's drive for continual improvement, they chose to implement Phocas to integrate with K8, allowing them to operate with enhanced business intelligence (BI) and improve the speed and quality of their decision-making across all areas of their operation.
Neal Boomer, Group Finance Director at Haldane Fisher explains how K8 has successfully driven many developments over the years as the system has grown.
'The openness of K8 provided us with the means of becoming one of the first builders' merchants in Northern Ireland to go live with a fully-functional and integrated ecommerce website, allowing customers to check stock availability across our branch network as and when they need to,' Neal said
How K8 is an intrinsic part of the business
Michelle McKee, Group Project Accountant at Haldane Fisher highlights how K8 is an intrinsic part of the business.
All transactions are processed through the system, and our staff use it daily for sales, purchasing, finance and stock management. Ultimately, K8 is at the heart of our day-to-day operations and has the capability to store huge amounts of data.

Michelle McKee - Group Project Accountant at Haldane Fisher
To further enhance their customer offering and business efficiency, Haldane Fisher wanted to digitally transform and modernise their data management. Consequently, they recognised the benefits of taking the transaction and business data within K8 into the cloud-based BI and analytics solution that is Phocas.
Since the successful implementation, Haldane Fisher have been able to transform their data access with informative insights that enhance decision-making for the benefit of the company and their customers.
Michelle explains how Phocas helps them to efficiently analyse large volumes of data.
Phocas is a self-service system that's fast and easy to use, empowering our staff to find the answers to questions immediately rather than waiting for weekly or monthly reports.

Michelle McKee - Group Project Accountant at Haldane Fisher
Key Benefits
Sophisticated stock and logistics management
Scalable, easy to deploy
Simple to use, yet powerful order management
Integrated email for invoices, statements, purchase orders, etc
'This not only increases efficiency but also means staff have objective knowledge in an easily understandable, visual format, to help drive improvement in all areas across the business,' Neal said.
Neal expands on the benefits Phocas has on making data so readily available and understandable, one of which being that staff can respond and react to it in real-time.
'As all of the key data elements in K8 feed into Phocas, change can happen quickly throughout all areas of the business. For example, when a sales transaction has been processed, it is quickly available to review by the product, branch, or division and compared easily to budget and prior years. The intuitive functionality of Phocas has been key to seeing the application widely adopted throughout the company,' Neal adds.
'All it takes is one click to get your sales data customised to a branch or customer, the combination of speed and flexibility helps staff at all levels make better decisions faster,' Michelle notes.
Another improvement is the flexibility to distribute data, with up to date reports available to staff at a frequency of their choosing. From daily, to once a week or at month-end, such instinctive functionality creates enormous efficiencies.
Michelle adds that using K8 and Phocas together offers significant advantages over K8 alone, before mentioning an unexpected benefit. 'It's a very visual piece of software, which makes it easier for you to see anomalies and outliers in a way you couldn't so easily before,' Michelle said.
Jason Bradshaw, Partner Alliance Manager for Phocas UK is delighted that Phocas have been able to help Haldane Fisher harness the power of their K8 data.
They've pushed for more of their business data to be accessed within Phocas, so have one version of the truth across the entire business. We look forward to working with them for many years to come.

Jason Bradshaw - Partner Alliance Manager for Phocas UK
Using K8 and Phocas in tandem means Haldane Fisher has a powerful business solution, leaving them excited about the future as they look to continue to grow and deliver the outstanding customer service for which they are renowned.
Highlights
Ability to access K8 remotely and continue trading off-site
Improved product margins allow more informed customer pricing
Batch invoice processing is now around four times faster
Enhanced stock reporting to identify slow-moving items