Back to case studies
Tileflair
K8 helps leading tile distributor, Tileflair, expand with ease and confidence
Vertical: Distribution
Industry: Tile Merchant
Product: K8 and Vecta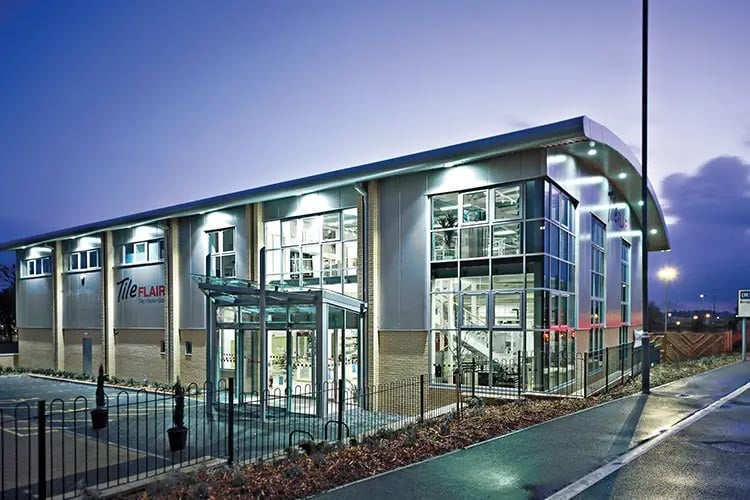 About Tileflair
Fifty years ago, Tileflair started trading with a small team of four people in one store. Passionate about being the best at what they did, they aimed to create a first-class experience for their customers. Such vision and the desire to deliver top-class service led the company to implement K8, the market-leading ERP solution from Kerridge Commercial Systems (KCS). K8 helps busy distributors, wholesalers and retailers, like Tileflair, manage their trade and finance effectively.
Tileflair has since taken advantage of K8's functionality to grow into the largest privately owned tile supplier in the south of England. Matthew Johnson, Tileflair's Chief Executive, explains how K8 has helped drive efficiencies over a long and fruitful journey.
'From a business perspective, using the same system for finance and sales has streamlined how we operate. We've also smoothly integrated our online store, so stock sells on our website and the customer order updates K8 in real-time. K8 is part of our digital strategy, and it opens up real possibilities for future growth,' Mathew said.
When we first chose K8, we were confident that KCS were a robust company. Established within the market, they weren't about to cease development or withdraw support for software we'd just built into our business. As you can imagine with such an intrinsic system, having that reassurance was hugely important for us.

Mathew Johnson - Chief Executive at Tileflair
Comprehensive stock management was another attractive benefit for the leading tiling business
Especially when combined with the sophisticated search functionality and ease of attaching items to an order. Additionally, K8 being a fully integrated ERP system meant they could use one system for all of their operational functions quickly and efficiently.
One of the highlights is keeping a sales order open while checking a customer's account history. Additionally, they like the "one-click to get to where you need to be" scenario, which gives them complete control over the sales process. Ultimately, executing multiple actions from one screen speeds up processing, which is one of the key reasons why K8 is used throughout the company.
Further vital benefits for Tileflair have centred around how K8 has allowed the company to scale. For example, in the past few years, Tileflair has expanded with additional stores in Swindon, Oxford and Yeovil. Matthew is keen to point out that K8 has been central to that growth as K8 makes it simple for the company to scale and add new branches to the system. Intuitive functionality also makes the scaling process easier. New users can quickly familiarise themselves with K8 as it's easy to use, and they can deliver top class service to their customers from the get-go.
Key Benefits
Sophisticated stock and logistics management
Scalable, easy to deploy
Simple to use, yet powerful order management
Integrated email for invoices,statements, purchase orders, etc
Any new or additional branches have complete visibility and access to stock from across the company network. This means they've effectively utilised all of their stock, which helps reduce waste and keeps Tileflair in line with their sustainability targets.
A recent key strategy for Matthew has been to remove stock for many of their lines from their branches and hold it centrally.
This helps us streamline our operations and optimise our inventory. And that task would be so much more difficult if we didn't have K8. So be it through moving, monitoring, buying or selling, the stock management facility within K8 is a real strength and creates value for us.

Mathew Johnson - Chief Executive at Tileflair
Tileflair has also driven many more efficiencies throughout their business, including accounts. For example, the company used to post invoices and statements to customers. Naturally, that soon became costly, both in terms of paper and postage. And from a cash flow and customer service perspective, this was an area they wanted to improve.
Now both kinds of correspondence are sent via email from K8. This measure alone has helped them save on money and resources and improve customer service as it all happens instantly. The savings in paper and energy alone were significant, together with reducing their carbon footprint, which was very important to them.
Tileflair has always made great use of the KPI reports contained in K8 for branch-level reporting. But more recently, they've taken their business intelligence to the next level by implementing Vecta, the mobile sales intelligence and CRM app which integrates with and takes its data from K8.
We're excited about the improvements that Vecta has helped us make to our business. We care about our customers at Tileflair, so meeting their needs is important.

Vecta delivers improved reporting for our sales team and management and gives us greater quantitative insight into our customers' behaviours. As a result, we can now make better-informed decisions for them and our business, which is a real win-win.

Mathew Johnson - Chief Executive at Tileflair
Highlights
Ability to access K8 remotely and continue trading off-site
Improved product margins allow more informed customer pricing
Batch invoice processing is now around four times faster
Enhanced stock reporting to identify slow-moving items