Comprehensive rental management software for complex operations
No matter where your business operates, inspHire Corporate is a multi-company, multi-lingual, multi-base currency enterprise-level rental management software that helps you maximise the value of your fleet. Fully bespoke and customisable to your requirements, inspHire Corporate is perfect for hire and rental organisations needing a consolidated global view of their operations for more profitable performance.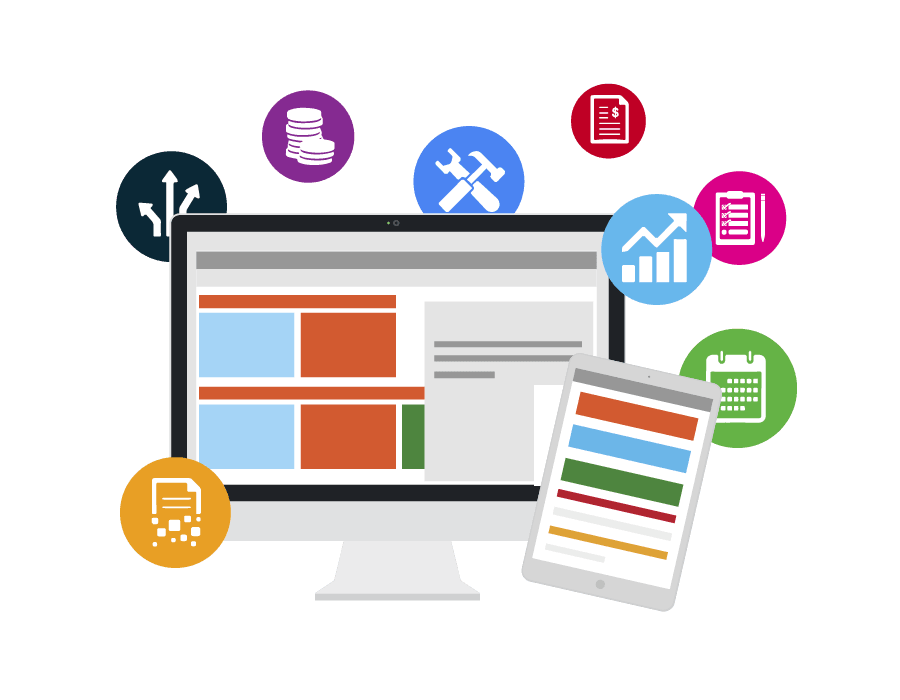 Manage your entire rental business in one system
Global ERP system functionality
---
Deliver a superior level of control with inspHire Corporate's ERP system functionality. inspHire offers a global system that can see equipment from multiple companies within one centralised view. This powerful software also provides a full suite of features managing multi-company, multi-lingual and multi-currency operations.
View your rental equipment from multiple companies within one consolidated view.
Create your quotes and rental contracts in any currency with multi-currency functionality.
Link to multiple ERP and finance solutions to centralise your operations.
Automate your workflow with the Action Configuration Functionality and SmartViews.
Connect with your third-party products with the inspHire API.
Customise the system to however you and your team wish to use it.
Rental, purchase & sales order processing
---
Dramatically reduce the time it takes to rental process orders. Deploy features and functionality across your rental business that will help your team manage processes with less effort and maximise equipment utilisation.
Instantly create quotes and seamlessly convert them to rental contracts or sales orders.
You can set up flexible discount and pricing structures for product ranges or specific customers.
Confidently commit to bookings with full visibility of your equipment availability.
Advanced purchase order processing allows automatic re-ordering, preferred supplier pricing, and multiple authorisation levels.
Manage kits and packages easily - enter one system price and auto-distribute costs across all kit components for accurate ROI and utilisation reports.

Phocas is a cloud-based business intelligence application that uses data to display instant analytics, forecasts, budgets & comprehensive statements that are fully up-to-date.
Learn more about Phocas

Via cloud technology, Vecta Sales Intelligence & CRM is the mobile app that empowers sales teams to maximise their performance and achieve their full earning potential.
Learn more about Vecta
Planning, logistics & scheduling
---
Say hello to hassle-free transport by ensuring all teams are in the right place and with all the necessary documents. Discover the wide range of flexible features that inspHire Corporate offers to help you improve the cost and productivity of your logistics management. Simplify the movement of your workforce and equipment with inspHire, so you can focus on keeping your customers happy. Manage all logistical activities, including third-party transport.
Simply allocate your drivers to deliveries, collections, warehouse transfers, and third-party transport.
Assign weight limitations or spread items across different vehicles to avoid overloading.
Email delivery and collection notes and other critical information directly to your customers.
Manage logistics from one centralised location or spread responsibility across multiple warehouses.
Dynamically allocate qualified team members to breakdown and workshop jobs.
Service, maintenance & repair
---
From managing inventory and keeping on top of certification to analysing the breakdown of servicing costs - start building your digital strategy by simplifying all workshop activity with inspHire. Not only can you make efficiencies with flexible fleet management, but you can also gain complete visibility of your return on investment.
Simply book items in and out of service or repair and test equipment to ensure compliance.
Efficiently allocate parts and labour to jobs in seconds, and analyse the ROI on each job afterwards.
Build a historical archive of works jobs, providing an overview of rental equipment performance.
Create letters to inform customers of the loss or damage, with embedded photographic evidence.
Track profit and loss on repairs with built-in costing functionality.
Charge a client for internal repairs, including timesheet entry for engineers.
Want to learn what we can do for your business?
Flexible accounting & finance
---
Make data-driven decisions with ease by uncovering financial insights into your rental business. From effortless invoice runs and KPI reports to analysing customer spending and loyalty, reduce the administrative burden of entering transactions and take advantage of inspHire's rental software. inspHire Corporate offers a range of flexible features that can streamline your financial processes, ultimately allowing you to gain valuable insight into asset performance, cost, and generated revenue.
Accurately raise and produce thousands of hire, sales, and workshop invoices in minutes.
Capture a complete picture of your ROI with the fixed asset cost and depreciation.
Consolidate invoices at site and customer levels, and send them out on a massive scale.
Integrate with your favourite accounting and finance solution to gain full visibility.
Capture your ROI by cross-referencing depreciation, rental revenue, and servicing costs.
Easily analyse the utilisation of your equipment to identify where you can make savings.
Customisable reports
---
Extensive business intelligence dashboards and customisable reports give you the tools to clearly understand how your business, operations, and rental equipment perform. In addition, our comprehensive rental management software enables you to make informed business decisions.
Rich reporting suite as standard, from financial, operational to business critical.
Produce your own custom reports using SAP Crystal Reports.
Email reports to internal staff or customers automatically with the built-in report scheduler.
Create live rental reports showing what's out where, revenue by product group, and more.
Instantly see the utilisation and ROI of your rental equipment.
Reminders and exception reports give you the ability to change things fast.
Discover inspHire's additional digital solutions that further improve your hire & rental processes
inspHire WebPortal
inspHire WebPortal is a user-friendly web interface that enables businesses to provide automated services 24/7. It allows customers to view and modify their contracts, reducing the workload of rental desk staff and empowering customers to serve themselves. By putting customers in control, WebPortal enhances their experience.
AP automation
Our product suite offers seamless integration with Documation, a leading accounts payable (AP) automation provider. Automating supplier invoice processing eliminates manual input, improves efficiency, and saves time and costs. This integrated solution streamlines your workflow and enhances your overall productivity.
Electronic invoicing (EDI)
By integrating with Tradex, your invoicing process is streamlined, eliminating the need for time-consuming data entry. Such a feature saves you time and reduces the risk of human error. Additionally, this integration keeps a thorough log of all relevant information, providing a convenient and reliable reference for your records.
Document storage
With Scan to PDF, you can quickly scan many documents or do so one at a time. These can then be attached to equipment or contracts. Accessing stored documents is easy, and you can conveniently send business documents to many locations with one click. Or, alternatively, email documents to customers.
SmartView Reminders
Ensure you always remember important tasks by setting automatic reminders for your hire contracts, sales orders, purchase orders, workshop jobs, services, and inspections. These reminders will instantly provide you with relevant information, making your work more efficient while improving levels of customer service.
Dashboards
We understand the importance of staying informed, so we offer an easy-to-use platform that provides valuable insights into your performance. With striking graphics and a straightforward display, you can access data from the present day to the previous year. Your data analysis is streamlined to help you make clear decisions.
inspHire API
inspHire's mature API integration simplifies operations, increases productivity, and improves customer satisfaction. Our API connects different systems for real-time data synchronization, automated workflows, and better communication resulting in faster resource allocation, processes and a competitive market edge.
PAT testing
With SimplyPats, you can ensure your rental equipment is always compliant by recording and saving test results in inspHire. This feature allows you to confidently identify due or overdue tests, generate certificates for equipment, maintain a comprehensive record of results, and monitor the history of PAT-tested equipment.
Solutions & resources
Looking for more information? These resources may interest you:
If you'd like to learn more about inspHire Corporate and how we could improve your business performance, please get in touch today.