Back to case studies
E.Tupling
Digital transformation saves time and enhances customer service for leading plumbing and heating distributor.
Vertical:
Distribution
Industry:
Plumbing & heating
Product:
K8, Web Trade, ePICK & ePOD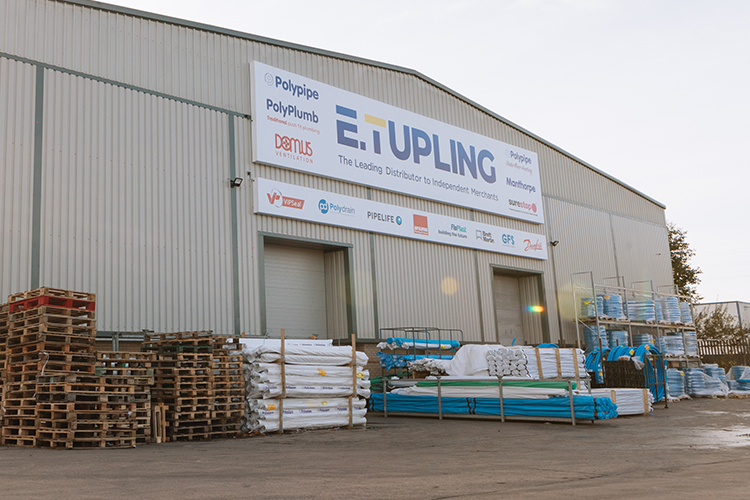 Plumbing and heating distributor E.Tupling has embraced the cutting-edge technology of K8, the industry leading business management solution from Kerridge Commercial Systems (KCS). K8 is a cloud-based enterprise resource planning (ERP) system with rich features and functionality specifically designed to help distributors of all sizes streamline their operations and maximise profitability. E.Tupling implemented K8 in January 2023, which has enabled the distributor to improve visibility between departments as they upgraded their ecommerce offering and dispatched products from Warrington and their brand-new fulfilment centre in London.
As a leading UK plumbing and heating distributor to independent merchants, E.Tupling prides itself on quickly fulfilling customer orders with better service than its competitors. The family-owned business was established in 1966 and has built a reputation for excellence by selling the brands customers prefer at an attractive cost per unit while constantly improving their choice of product offerings and standards.
During a recent period of sustained growth, E.Tupling knew they needed to upgrade their ERP system to continue their upward trajectory. 'The increased sales and demand have been incredible,' says Ross Duncanson, E.Tupling Director. 'And it's created nice problems to have. Our old system could no longer serve our needs, and we recognised that upgrading our software solution was imperative.' After thorough research, Ross and his team concluded that their solution had to be K8.
360-degree visibility through a business with many moving parts
Chris Yarwood, E.Tupling's General Manager, explains, 'Before we started using K8, we did not have that instant insight into what was happening elsewhere' as he describes how their increased demand was causing inefficiencies.
However, since the successful implementation at the start of 2023, the whole team has been impressed by how K8's visibility and comprehensive functionality have helped E.Tupling deliver improvements and efficiencies across all business areas.
Chris Yarwood, General Manager of E.Tupling
'Since K8's implementation, the interaction between departments has improved,' says Tim Whitehead, E.Tupling's Director. 'I can see what the warehouse is doing; the warehouse can see what the sales team are doing. Meanwhile, the sales team can feed into the customer services department. So, from a holistic point of view, all parts of the business can work together and are in sync.'
Such efficiencies have helped E.Tupling streamline processes and cut costs while providing better and more instant customer service.
With K8, we're all aware of everything happening in the business. If customers want an update on their delivery status, we can give them that immediately without looking through the paperwork to find the proof-of-delivery
Chloe Watkinson, Customer Services Supervisor of E.Tupling
Moreover, if an order runs slightly short of stock, it's easy to see. In that case, Chloe and Chris can ship the partial order and book out the remainder when stock replenishments arrive. All while keeping the customer updated every step of the way. 'The whole digital platform that K8 gives us has driven so many efficiencies,' Tim highlights, referencing how K8 integrates with KCS' mobile apps that run on smart devices and a B2B ecommerce solution called Web Trade.

Integrated apps on smart devices for improved digitisation
'ePICK is so simple,' says Chris Yarwood, explaining how his team has taken full advantage of how warehouse staff can pick goods for dispatch quicker and with greater accuracy. 'We're constantly recruiting additional team members, but whoever we bring into the business can use ePICK with very little training. It's a secure and robust solution, and all the details of the picks come through to us instantly in the back office. So, for us, having our sales and transport teams see where we're up to is fantastic.'
Looking at the electronic proof of delivery (ePOD) solution, the ePOD app from KCS has helped E.Tupling completely control its delivery cycle to streamline its processes and enhance customer service. Entirely paperless and available on a smart device, ePOD integrates with K8's Delivery Management module, helping drivers manage their schedule and record and store PODs, which then update the central K8 system in real-time.
Chris commented, 'We can now take pictures on the PODs, which is fantastic for us because if any issues come up, then we can actually look at the images and resolve disputes quickly.'
Seamless ERP synchronisation for successful online sales 24/7
Keen to take the integrations one step further, E.Tupling has now upgraded their ecommerce system to Web Trade, which integrates with K8 to give the distributor a new way of successfully selling to trade customers 24/7.
'Historically, our previous online ordering system didn't update until 6 pm daily,' says Claire Briars, E.Tupling's Marketing Manager. As a result, customers couldn't always place orders reliably because some products might be out of stock. 'The previous portal was very disjointed,' Claire explains, 'and didn't give our merchants the customer experience we wanted and can now deliver.'
By contrast, Web Trade talks to K8 in real-time, which enables E.Tupling's customers to have instant access to updated stock levels and accurate pricing that's bespoke to them. Its sophisticated yet easy-to-use functionality has also allowed Claire to make instant product and price amendments. 'It's given me a new and effective way of communicating with the customers through banners and instant news feeds, which is a really valuable additional marketing channel to now have.'
Also, Web Trade's customer portal allows E.Tupling's customers to pay bills, place orders, or look at historical invoices they've already settled on a self-serve basis whenever they want. Plus, trade customers can access more than 4,500 products online in real-time, with accurate pricing and up-to-date stock levels. Once orders are made, they automatically input into K8 for onward processing, which has saved E.Tupling time and money.
The next step towards full digital transformation
Changing software is a significant investment for any business. Still, throughout the process, Ross, Tim, and the rest of the team at E.Tupling have been encouraged by the support provided by KCS and the improvements K8 has enabled.
Overall, it's been a seamless process, and it's working well for us. We're always striving to be better and to improve, so there'll be further investment in KCS products as time goes on, which we expect to help us offer an even better service to our customers.
Ross Duncanson, Director of E.Tupling