Back to case studies
JTD Building Supplies
JTD Building Supplies quadruples in size with K8 - the ERP solution that keeps on growing
Vertical: Distribution
Industry: Building & Timber Merchant
Product: K8 and K8 ePOD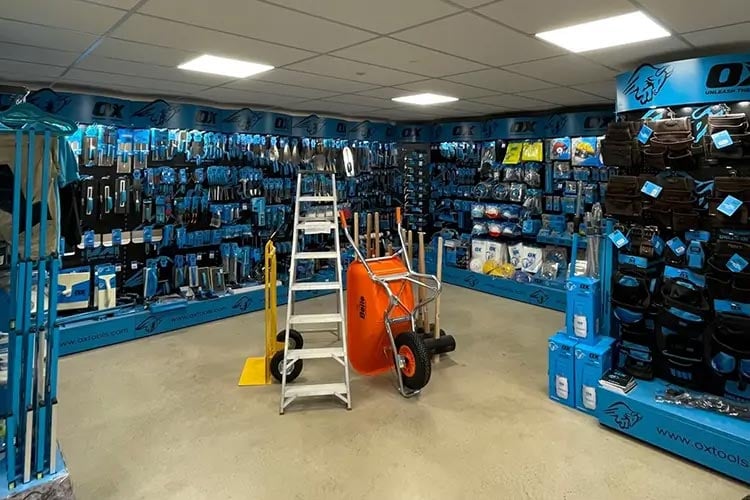 About JTD Building Supplies
Established in 2011, JTD Building Supplies has used the intuitive functionality within K8 from
Kerridge Commercial Systems (KCS) to make great strides in its development. Implemented
in 2017, K8 is an ERP business management system that uses a comprehensive range of
modules to help merchant businesses source effectively, stock efficiently, sell profitably,
and service competitively.
Based in West Yorkshire, JTD Building Supplies is an independent builders' merchant providing building materials and supplies to construction firms, trade customers and retail customers across the region. The company grew from values of sustainability and customer service and was explicitly looking for the right ERP software when its Managing Director, Tony Sharkey, was invited to attend a business management strategy course run by Goldman Sachs. One of his goals set through this course was to find a good software package. Tony knew that a number of leading builders' merchants were using K8 software, so after a lot of research and comparisons, Tony decided to implement K8 in March 2018 at JTD. The transformation since then has been remarkable.
K8 has successfully contributed to our growth and overall performance.

Heidi Teague - Operations Manager at JTD
JTD now has two full-purpose sites and a full-time staff of thirty-seven people
Starting from a small base with eight people and a turnover of two million, JTD now has two full-purpose sites and a full-time staff of thirty-seven people. Moreover, they've just recorded a global turnover of ten and a half million pounds.
K8 is a system that works intuitively with builders' merchants, and the beauty is that it keeps on growing. The other competitors don't have the same add-ons and modules, which K8 lets you turn on and off as required.

Heidi Teague - Operations Manager at JTD
'Speed of system implementation is also vital for a business like ours, and K8's great because it's user-friendly and simple to use. But that's only at the surface level. Crucially, its foundation lets us build a system to suit our needs. And that means we get an ERP solution that promotes growth, sustains our business and helps us generate more profit than before,' added Heidi.
'We're constantly updating K8's functionality for our customers,' says James Mitchell, Managing Director of KCS in the UK & Ireland. 'Incorporating user feedback is one of our core values, and it's from listening to customers like JTD Building Supplies that we've been able to keep driving innovations across our range of software. K8's latest developments our customers a competitive advantage in the marketplace because it helps them streamline their daily operations, open up new routes to market, and improve their customer service.'
Key Benefits
Sophisticated stock and logistics management
Scalable, easy to deploy
Simple to use yet powerful order management
Integrated email for invoices, statements, purchase orders, etc

Heidi expands on what makes K8 so vital:
The trading side is fantastic, I've implemented software for many different Fortune 500 companies, and they're all financially led. With K8, however, your business has to be trading led. Once you understand that, the transformational efficiencies that benefit your operation are massive.

Heidi Teague - Operations Manager at JTD
What Heidi loves about K8 is how, through using it, the solution makes users more efficient and knowledgeable about their business performance.
'So, to raise a delivery for a trade customer, we raise an order. K8 then generates a pick note. We use that note to pick the product up from the warehouse, and then K8 issues an advice note. You then use K8's delivery note and dispatch it to the customer. To confirm delivery, K8 generates an invoice. Ultimately, the way the stock moves through the system is highly intuitive. All you have to do is press a button,' she said.
As JTD has grown, testimonials about its qualities have spread through word of mouth. What's exciting for Heidi is how K8's deep functionality means there's much more potential to explore.
The next thing is to get staff to record information about individual products, customers, and accounts. That will further improve customer service, and over the next eighteen months, we want to implement some of the K8 workflow apps.'

Heidi Teague - Operations Manager at JTD
The range of K8 workflow modules from KCS, including Sales Rep Portal, eReceipts and ePOD are all apps that can install on any mobile device to integrate directly with K8. They empower staff to conduct key business tasks from any location, whether in the warehouse, yard or on the road.
Heidi and JTD will also soon implement K8 ePOD. This workflow app allows drivers to schedule the most cost-efficient deliveries on their phones, take photos, and record signatures for accurate and digital proof of delivery, all while keeping customers updated with their progress.
James Mitchell highlights further:
This innovation doesn't just help customer service but also removes the need for printing and storing paper while helping our merchant customers cut down on fuel. So, by taking technology to the job, they use and spend less. Which demonstrates how easily sustainability and profitability go hand-in-hand.

James Mitchell - Managing Director for KCS in the UK and Ireland
Sustainability is undoubtedly high on the agenda for JTD Building Supplies as they look to build upon K8 to develop their business.
'Aside from implementing more of K8's different modules over the next twelve months, we're putting solar panels on our roof and buying an electric forklift as well as implementing our strategy for zero carbon. We will develop an ecommerce aspect for our website, alongside the implementation of a delivery management solution that utilises all the benefits of K8 ePOD,' said James.
Highlights
ERP software tailored for the demands of a modern builders' merchant
Powerful modules that add extensive functionality as needed
Intuitive and easy to learn for fast system implementation
Trading-led interface that promotes efficiencies across the business