Back to case studies
Grant & Stone
Grant & Stone delivers on its digital strategy with K8
Vertical: Distribution
Industry: Electrical Wholesalers
Product: K8 and K8 ePOD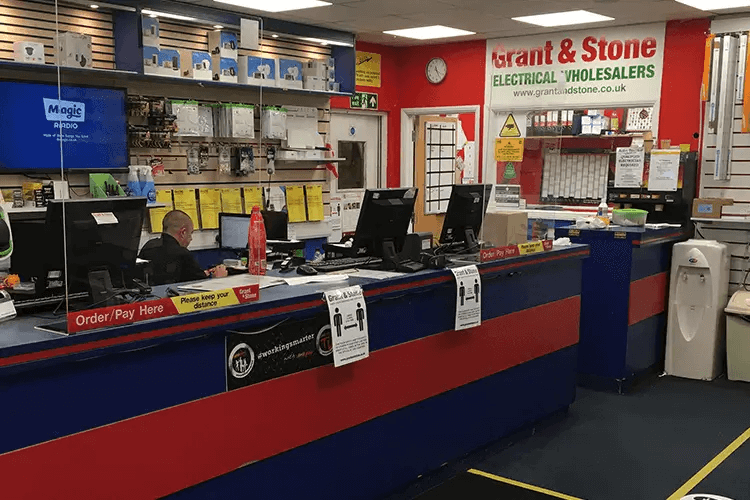 About Grant & Stone
Independent merchant Grant & Stone has always considered itself to be ahead of the curve when it comes to technology. At a time when going digital is becoming increasingly important for merchants, the business has embedded K8 at the heart of its operations – and the result speak for themselves.
Grant & Stone has grown both in terms of its physical branch locations and its digital offering over recent years. It is now the largest independent builders' merchant group in the south of England, with K8 proving integral to this success.
Cloud-based software facilitates expansion
Grant & Stone uses the cloud-based K8 solution, which is one of the reasons why such rapid growth has been possible. Darren House, Managing Director for Electrical at Grant & Stone, explained: 'We ultimately needed something scalable. K8 has obviously been the right choice, especially with the number of acquisitions we have made over the past 18 months.'
We The cloud has been great because we can just continuously expand and have no barriers and roadblocks. We just add so many extra branches and it's just set up and done. From a scalability point of view, it works really well.

Darren House - Managing Director for Electrical at Grant & Stone
Cloud-based software has helped enhance IT security at Grant & Stone, as KCS is responsible for ensuring the safety of the company's data. This means the IT department can focus its attention on other areas of the business.
The ongoing costs of the cloud are fixed to a certain degree; you know exactly what you're going to pay. We don't have to worry about our local server suddenly going down, or suddenly having to stick more hard drives and RAM in it to cope with increased demand.

Darren House - Managing Director for Electrical at Grant & Stone
The cloud software also proved invaluable to the business during the Covid-19 pandemic, as colleagues were able to work from home and access the system remotely.
K8 ePOD
A key component of the ERP solution, K8 ePOD is an app installed on the driver's smartphone or other suitable device.
This enables the driver to manage the customer delivery cycle, check off and confirm the delivery, as well as capture recipient names, images and signatures.
Branch staff are automatically and immediately informed of any issues that have arisen with the delivery so they can be resolved quickly and efficiently. If there are no problems, then it's as simple as capturing the recipient's details and heading off to the next job!
Digital solutions for a multi-disciplined merchant
One of the reasons for Grant & Stone's success has been its willingness to go digital. K8 offers a number of integrated apps and modules to allow merchants to undergo a digital transformation, including K8 ePOD, the electronic proof of delivery solution.
K8 ePOD has been revolutionary for us in that there's no filing back at the branch, so it's saving a huge amount of time. Filing all the paperwork used to be the branch junior's Saturday morning job – that's all gone now.

Darren House - Managing Director for Electrical at Grant & Stone
Darren revealed there have been added benefits to using the digital proof of delivery app that the business hadn't previously considered.
When a customer has an issue - or they go bad and you have to collect debts - we can locate the signatures straight away. In the event you do need to go to court, they're immediately available. You don't have to wait for people to find copies of proof of delivery in boxes of paperwork.

Darren House - Managing Director for Electrical at Grant & Stone
Integrated catalogues have also a big part to play in the company's success.
We have deployed the integrated Luckins catalogue with K8, it's important to get product descriptions and pricing right first time for our staff and customers.

Darren House - Managing Director for Electrical at Grant & Stone
Grant & Stone also uses EDI integrations.
It saves a lot of time and manpower and enables us to scale without taking on loads of new staff. We do somewhere in the region of 6,000 purchase orders a month, and there are a lot of lines to each one of those. Someone manually doing that would be a lot of work.

Darren House - Managing Director for Electrical at Grant & Stone
K8 WebTrade
Is a cloud-based solution that is integrated directly with K8. Customers can access your product catalogue and view prices and availability. You can personalise your site with your chosen colour scheme and logo, and add banners and adverts.
With K8 WebTrade, your business can quickly start trading online. With instant access to all products, together with their prices and stock availability, it's easy to select the right products for the job and to place an order online. Your customer can also browse and settle their account online, helping you effectively manage your cash position.
Giving online customers what they want
Grant & Stone recently extended it's web presence with K8 WebTrade, a a B2B portal which will further expand the company's existing online presence.
Our online business isn't the biggest revenue generator for us, but it's nevertheless a significant, key part of the business. We deliver over 5,500 web orders each month. Our customers will continue to adapt and evolve, so we need to keep that expertise moving forward.

Covid has led to an influx of people moving online. K8 WebTrade has been good for us – we've seen a positive uptake. A number of our key customers are using it every month to look at their invoices, download and double check them.

Darren House - Managing Director for Electrical at Grant & Stone
Offering advice to any other merchant that is looking to make the shift to online trading, Darren emphasised the importance of choosing a reputable provider to partner with.
Go with a good partner that can adapt and be flexible and offer you good support. Otherwise, you may get trapped and find you can't move forward.

Darren House - Managing Director for Electrical at Grant & Stone
As an industry, builders' merchants are starting to wake up to the benefits of online trading, but Darren believes there will always be demand for face-to-face service and interaction.
There's now a mix. Our customers - electricians, builders, plumbers they still enjoy the social aspect of visiting a merchant, having a coffee and some banter at the trade counter. However, the pandemic has changed people's approach and they are now more accustomed to working online.

We heard stories of plasterers going online to order bags of plaster because they couldn't get it through the usual channels. I can't imagine any of them would have bought plaster online before the pandemic. It's definitely accelerated people's use of online.

Darren House - Managing Director for Electrical at Grant & Stone
By outsourcing your IT infrastructure, you are putting the experts in charge – in the cloud, day to-day tasks such as backing up data are handled by KCS, allowing you to focus on other areas of your business.
Not only this, upfront costs are kept to a minimum. There's no need to invest in hardware that will quickly become outdated – cloud servers are hosted offsite, saving you valuable space at your business premises.
With the cloud, you can add extra users as you need them, scaling up your ERP solution as your business grows, without having to buy more hardware.
KCS are always driving us forward with the latest versions of K8. We're already on the path towards a digital future by using all of the main features that KCS has to offer - and we're in the process of launching any that we don't already have.

Darren House - Managing Director for Electrical at Grant & Stone
Continuing a great partnership
KCS solutions are, and will continue to be, imperative to Grant & Stone. Darren believes it is the strength of the relationship between the two companies that has made K8 so critical to the business over recent years.
From bespoke developments to ensuring Grant & Stone has access to all the latest apps, Darren explained that KCS' push for innovation has provided a real competitive advantage. As a company that has always been "pretty au fait with technology", the release of new functionality has suited Grant & Stone's drive to be ahead of the competition in terms of technology.
We've always had a good relationship with KCS. It's not a case of 'this is what we offer, here you go' - there's a two-way communication between us to see how we can keep improving.

Darren House - Managing Director for Electrical at Grant & Stone
With K8, you can easily deploy apps for branch tasks such as picking or goods receipt on smartphones or other such devices. Easy to use and quick to deploy, these apps enable you to 'take the technology to the job', improving efficiencies and increasing customer service. They also have the advantage of offering users additional support, such as easy access to product images and locations to ensure they can swiftly identify the right product for the task at hand.