Back to case studies
Eyre & Elliston
'No time to stand still': Eyre & Elliston looks to build greater success with K8
Vertical:

Distribution
Industry:

Electrical wholesaler
Product:

K8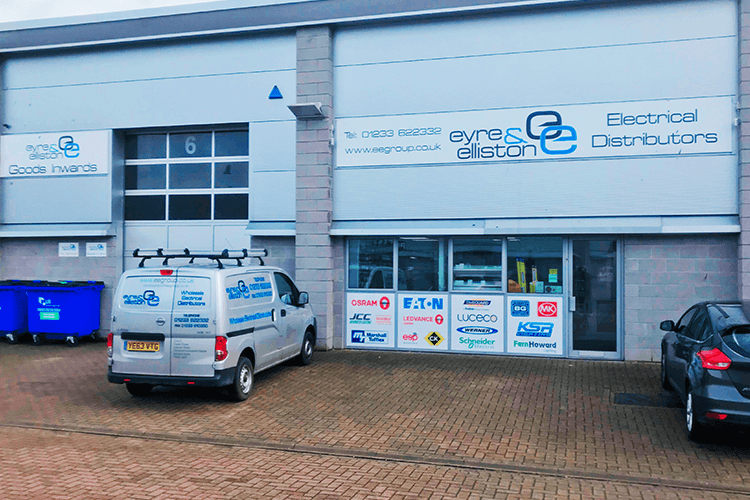 About Eyre & Elliston
Independent electrical wholesale distributor Eyre & Elliston first adopted our software in 1998. The company has gone from strength to strength and upgraded over the years to operating with K8, our flagship solution for electrical wholesale, across its entire branch network. It's the complete business solution that has become embedded in the company's operations, and will continue to do so.
A key benefit of K8 is that it's so easy to use. When new people join the business, they often say that K8 provides twice as much information as other software they've worked with previously - it has really paid dividends for us.
David Monteith - Commercial Systems Manager at Eyre & Elliston
Finding ERP software that fits well with daily operations is imperative for any business. Ideally, the solution should grow with the company, adapting to whatever changes need to be made with both speed and ease.
This has certainly been the case for Eyre & Elliston. The independent electrical wholesale distributor first signed up for Kerridge Commercial Systems (KCS) software back in 1998; fast-forward 23 years and although KCS has released new versions of its innovative software, K8 remains just as integral to its operations today as the original version was on day one.
A longstanding partnership
David Monteith, Eyre & Elliston Commercial Systems Manager, explained that as the business has grown, the need for a scalable ERP solution has never been greater. "When we first introduced KCS software, we had around 40 branches. We're now operating 61 electrical branches and eight industrial and compressed air divisions," commented David.
"K8 has taken over all our business functions, from stock management, point of sale, and accounts - we don't use any other software. We don't need anything other than K8 to successfully run our business."
KCS' ERP solution is widely used throughout the electrical industry, which has proved beneficial to Eyre & Elliston when taking on new staff.
"Many of them have used K8 before at their previous employer, making the transition pretty simple," David revealed.
Reflecting on 2020
The Covid-19 pandemic undoubtedly created unusual trading conditions for business, and Eyre & Elliston was no exception. However, it was much easier to adapt to the new normal with K8 embedded in the organisation, particularly the ease of adapting to home working for staff and the simplicity of communications.
"It wasn't necessary to close any of our sites, as a lot of our branches were supplying the Nightingale Hospitals. We started to realise as an industry that there were new ways of working, and K8 quickly allowed us to innovate," David explained.
Members of the Eyre & Elliston team were able to work from home and K8 helped facilitate this transition by providing reliable remote access.
"Many of our accounts, credit control and admin staff began working remotely early on in the pandemic, we were able to quickly organise ourselves. As far as our customers are concerned, it's business as usual, despite the physical location of some of our colleagues."
"Without K8, it would have been very difficult to work in this way - being able to access the system from home is a key element that has enabled us to keep our business running seamlessly."
Support from the K8 User Community
One of the resources David has found valuable over the years is being a member of a KCS user group. As an active and independent organisation, this brings together a number of KCS customers who share knowledge and interact with one another to get the most out of their software.
"The user group is an active resource for its members, and there's always a steady flow of interaction. I see real value in the user group and KCS customer conferences both in terms of learning about new initiatives and plans, but also in networking and sharing ideas. However, over recent months we have been unable to meet in person for obvious reasons, but members can continue to ask questions and participate in the community remotely."
The K8 User Group is an independent organisation whose membership is open to businesses using the K8 solution. It provides the opportunity for members to collaborate on collective objectives and to share ideas with KCS. It's quick and easy to ask other members in the community how they use certain features to really benefit their business and to share knowledge.
Paul Cornford, K8 User Group Chairman
Projections for 2021 and beyond
David believes one of the changes facing the electrical industry over the coming months and years will include the standardisation of product descriptions, particularly important as digital trading becomes more prevalent.
The ETIM international classification standard will eventually be rolled out, which will make it easier for electrical wholesalers and distributors to market products globally.
"An industry standard would be really beneficial. There are so many differences in how products are named that having a common description would make it easier to sell to the rest of Europe and beyond," said David.
"Having ETIM alongside a product information manager is probably a good place to start from a cataloguing point of view. It's something that everybody in the electrical industry will adopt sooner rather than later, and we look forward to integrating this valuable data with K8 as it becomes available."
Eyre & Elliston adopted K8 a number of years ago and has seen various changes - and improvements - in how technology has developed during this time.
"Both hardware and software have come a long way," David noted. "Our system runs at around 99.9% uptime, which is testament to how far technological advancements have progressed over the decades and to the stability and resilience of the K8 solution."
Eyre & Elliston is also making its own steps towards a new digital era. "There's no time to stand still in the marketplace. I think we are seeing an increasing trend towards online trading. The days when a contractor would stop for a cup of coffee in the morning and place their order for the day are being replaced with a shift towards customers ordering online for collection or delivery.
"Whilst that face-to-face interaction with our customers - sharing knowledge and helping them with product detail - will remain a key part of our customer service, we can see the trend towards online. There's definitely an appetite for it," highlighted David.
"There's a portion of our industry where owners have perhaps passed their businesses down to their children. These new owners - and their customers - now want to do business digitally and merchants are doing what they can to facilitate this."
Our digital platform is an important part of our future business strategy; being able to place orders online and have these immediately available within K8 for processing ensures that we can meet our customer's needs efficiently. We can also continue to deliver that excellent customer service that sets us apart from our competitors.
Results
Well-integrated software that has scaled with a growing business for 23 years
Successful, longstanding relationship between the two businesses
Easy to train new staff on how to use K8
Streamlining of many of the company's operations, from accounts to stock management
Remote access for colleagues who work from home
Ability to adapt to new trading conditions posed by the Covid-19 pandemic