Back to case studies
Dickson Bearings and Transmissions
Dickson Bearings and Transmissions are pushing forward with their use of K8
Vertical: Distribution
Industry: Distributors
Product: K8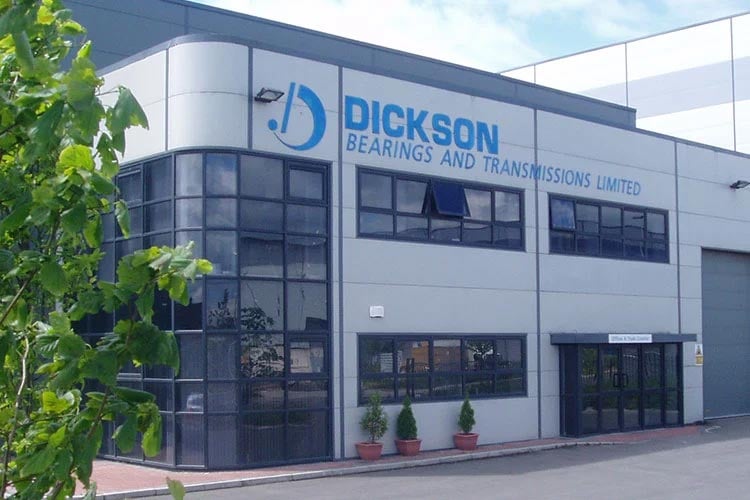 About Dickson Bearings and Transmissions
Dickson Bearings and Transmissions (Dickson); a third-generation company, is one of Ireland's leading distributors of industrial parts. Based in Dublin, Dickson is particularly proud of their heritage and customer service track record. Kerridge Commercial Systems (KCS) users since 1986, the company considers K8 an essential business tool; progressively developed and fully supported.
90 years in business, 30 years with Kerridge Commercial Systems
With an inventory of 150,000 part lines, managing the correct depth and breadth of stock is key to Dickson's operations. Across Ireland, more than 2,000 businesses rely on Dickson for high-quality service, backed by technical expertise and experience. With the majority of customer orders relating to equipment breakdown; time is of the essence to have the correct parts on site without delay and for repairs to be carried out.
K8 working hard
Initiated by the purchase of some second-hand Wang hardware in the mid-1980s, Dickson became a KCS customer by a slightly unorthodox route. Since then, the company has grown considerably in terms of both customer base and product range. In parallel, Dickson has taken its systems forward through major releases; upgrading to K8 in 2007.
Without K8, we wouldn't have a business; the system is reliable, works well and easy to use. Compared with other systems we have seen, being able to navigate quickly between modules and applications is fundamental for us.

Ian Dickson - Joint Managing Director at Dickson Bearings and Transmissions
"As a small company, we only have 14 users; it's vital that our sales staff can create and process orders quickly and seamlessly. Moreover, we appreciate that time is money for our customers and responsiveness is critical. The fact that K8 is used by several major companies in our sector is particularly reassuring," Ian said.
Highlights
Essential business tool
Progressive upgrades
Proven and reliable software
Easy to use and navigate
Supports customer services
Finger on the pulse
In its fast-moving business, Dickson uses K8 to keep a close watch on all the key metrics. The system's dashboard presentation shows the latest sales order situation, revenue and profitability.
"K8 holds a wealth of information that we can use to run daily operations and drive the business forward. We can see a snapshot of day-by-day and monthly sales with margin performance at any time - the Advanced Analysis tools are essential to keep us informed. Our field sales team also have access to a web-enabled detail report to keep them in touch with what's going on. If they are going to see a customer, they are well briefed with the latest information from K8."
Future plans
Dickson are certainly looking to the future, pushing forward with their use of K8, to improve efficiencies and drive profitable trading.
"Our business has grown organically over the years, we manage our stock by adding to existing products and introducing replacements as the demand for older items falls away," Ian said.
K8 supports our purchasing; what we need, manage our pricing structure and although it's not an exact science, there's forecasting detail at our fingertips. It's good to see new K8 developments coming through and that give us confidence for our future.

Ian Dickson - Joint Managing Director at Dickson Bearings and Transmissions
Results
Enables 'finger on the pulse'
Tight stock control disciplines
Aids efficient purchasing
Effective pricing management
Powerful advanced analysis
Accessible dashboard detail
Platform for development