Increase efficiencies & maximise your warehouse management
A smooth-running warehouse is the cornerstone of a profitable distribution, wholesale, merchant, and retail business. As any successful warehouse manager knows though, it's a fine balancing act and you must be highly organised as you synchronise operations between the warehouse and back office. eWarehouse is a powerful app that can be used on smart devices which integrates with our ERP or business management system. It helps streamline and synchronise automation across departments. Plus, eWarehouse supports your digital transformation journey as you increase efficiencies, cut costs and optimise space usage.
How can eWarehouse help your business?
Assign the right person every time
---
With eWarehouse, you don't need to remember who has a crane license. Or if certain products require certified handling skills. Our ERP system records all of these details from you once, after which eWarehouse automatically runs task allocations for users on-site. Such features deliver a faster and more streamlined operation, allowing you to offer more efficienct and outstanding customer service. Let us streamline the process for you.
Effortlessly establish roles and designate the areas where your staff should operate.
Bulky product picks may necessitate using a forklift, so it's easy to designate to a qualified driver.
If a user can perform both tasks, you can easily switch between the designated roles allowed.
Transform putaway processes for increased capacity
---
eWarehouse accelerates your warehouse's putaway process with speed and precision. The app automatically identifies the best bin location for any product, helping you optimise the utilisation of your warehouse space. Depending on requirements, you can also set instructions to direct items to assigned bulk bins or pick bins that require replenishment.
Space-saving automation allows you to direct products to nominated bulk bins or pick areas.
You can also direct putaway tasks to a pick bin that needs urgent replenishment.
Use dimensional putaway to place stock according to depth, height, width & weight.
Accurate goods receipt & putaway
Easy bin & warehouse transfers
Smart cross-docking functionality
Integrated wave management
Automated picking & packing task allocation
Fast stocktakes that reduce errors
Enhanced quality control where needed
Run a fully joined-up returns procedure
Drive warehouse efficiency with intelligent cross-docking
---
In the course of fulfilling a customer's order or carrying out a back-to-back transaction, it can boost efficiency to direct the acquired stock to a designated holding area. With its intuitive interface, eWarehouse helps optimise the shipping process and makes the most of the space available in your warehouse.
Use eWarehouse to cross-dock full pallets or split them to match future orders.
If large products won't fit in the cross-dock area, you can store large products in a bin until ready for dispatch.
eWarehouse ensures stock reserves against that customer sales order, despite being in a warehouse bay.
Customers can order items online and visit their branch to collect their items - they don't even need to go inside the building.
Darren House, Managing Director of Electrical, Grant & Stone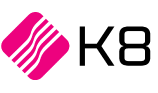 Perfect for medium to large enterprises, K8 is a sophisticated cloud-based ERP and business management solution that delivers a complete digital strategy for profitable growth.
Learn more about K8
Want to learn what we can do for your business?