The mobile order capture solution for your business
Effortlessly streamline your sales process with eSales, a cutting-edge mobile app that simplifies the quotation and order process. Seamlessly integrated with K8, it provides instant access to real-time inventory levels, product images, and precise pricing information, whether in-store or working remotely.
eSales boasts intuitive search capabilities that enable your sales team to swiftly add appropriate products and explore other options or related products. The interface is straightforward and easily navigable, making it equally effective for in-branch or on-site use.
What are the benefits to your business?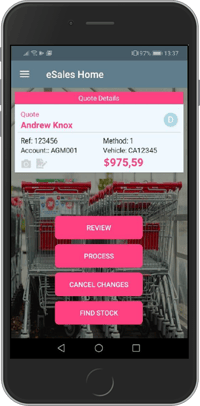 Easy-to-use mobile sales app
---
eSales boasts a user-friendly interface equipped with effortless search functions, ensuring seamless navigation of your inventory. Moreover, your customers can also view product images and other relevant details, augmenting their shopping experience and enabling them to find the perfect item quickly.
Use with your customer in any location
---
Your staff can use the eSales app to capture order details in the yard or branch. Or they may accompany the customer in-store, building a basket as they go. But on the road, your remote salesforce can capture and process customer demand on-site. Your customer will also receive an order acknowledgement before your salesperson leaves their premises, helping deliver a joined-up and professional level of service.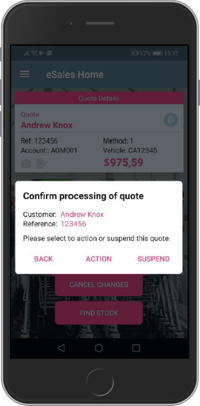 Quickly build orders & quotes
---
Once a customer places an order in the app, K8 swiftly and automatically handles the processing of the order. With the app's intuitive interface, users can easily manage the entire workflow for either picking up their order or having it delivered to their desired location. This streamlined process ensures that customers receive their orders in a timely and efficient manner, without any unnecessary hassle or confusion.
See alternative products to maximise sales
---
Providing your sales team with comprehensive knowledge about your products enables them to guide customers with confidence towards the most suitable options. In addition, your sales team can recommend supplementary items that complement their goals, resulting in a seamless customer experience.

Our cloud-based ERP solution empowers small to medium enterprises to manage all aspects of their business efficiently. And it's quick to learn for a fast return on investment.
Learn more about K8 Trader
Want to learn what we can do for your business?