SaaS: What it is and why you need it
It's fair to say that 2020 has created some unusual trading conditions for businesses. However, companies using SaaS have weathered the storm better than most - is it time you joined them?
Back to the news
It's fair to say that 2020 has created some unusual trading conditions for businesses. However, companies using SaaS have weathered the storm better than most - is it time you joined them?
Software as a Service - or SaaS as it's more commonly known - uses a licensing and distribution model to provide software applications via the internet. This means they can be accessed from anywhere with a suitable connection, delivering the flexibility and accessibility that onsite, server-based systems are unable to offer.
Kerridge Commercial Systems (KCS) SaaS applications run in the cloud, and there are many reasons why companies of all sizes are making the move to this type of software deployment.
The figures speak for themselves
We've seen a considerable rise in the number of users choosing the SaaS model, which is in line with market expectations. Not only are existing software upgrading to SaaS, but new adopters are favoring it over on-premise servers.
In 2017, around 10% of K8 users were on SaaS - fast forward two years and this figure increased to 35%. As many as 70% of our new sales are for SaaS products.
But what is it that makes SaaS so appealing?
Low upfront investment
The biggest benefit of SaaS is the absence of a large, upfront cash investment. SaaS opens up feature-rich software to businesses that may have previously been deterred by the cost of other models.
Paying on a subscription basis eliminates the need to buy the entire product upfront, keeping initial and ongoing costs to a minimum.
Eliminate hardware maintenance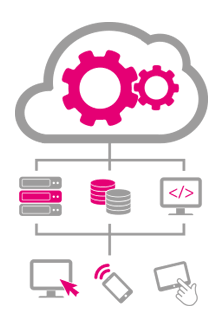 SaaS also eliminates the challenges associated with onsite equipment. There's no heavy, physical infrastructure involved; all your business needs is an internet connection, and the terminals and peripheral devices will connect to the same centrally-hosted solution.
Having equipment onsite often means having to set aside a designated room to store the hardware, as well as investing in an air conditioning system. The SaaS infrastructure is backed up and maintained remotely, so there's also no need to employ skilled IT personnel, freeing up your time to focus on running other aspects of your operations.
Availability whenever you need it
SaaS operates in a managed infrastructure, which maximises uptime and availability. Your system will be available whenever you need it, with minimal outages. Should any problems arise, engineers are immediately available to rectify the issue, allowing you to get back up and running as soon as possible.
The recent COVID-19 pandemic has highlighted the importance of software availability. Businesses with staff unable to go into the office wouldn't have easily been able to offer the option of remote working without SaaS, which removes the availability risk and makes it simple for anyone to access from home. Colleagues are effectively logging into a private system using a virtual private network that is both secure and accessible.
A secure alternative
Storing data in the cloud makes it much more secure from external threats. Data is securely backed up, and you can build different levels of disaster recovery into the infrastructure depending on your business needs. This is a much simpler process than duplicating hardware infrastructure on premise - and it's likely to be more cost effective, too.
Additional functionality
KCS SaaS users are benefiting from a greater variety of new products and developments - modules such as K8 ePOD, our delivery management solution, are available on a SaaS basis.
The same goes for our range of ecommerce solutions, which have enabled businesses to trade online during the pandemic when opening physical stores was no longer an option.
Let's talk!
If like many businesses you believe SaaS is the right route for your software, why not give us a call? Whether you're an existing K8 user or are simply looking for a new software provider, we'd love to discuss the benefits of SaaS with you in more detail.